Discover more from Latin America Risk Report
Daily analysis of politics and security in Latin America.
Over 5,000 subscribers
Latin America Risk Report - 23 July 2020
Bolivia's polling wars and Guyana's election dispute

In today's edition:
Region - Climate migration models

Bolivia - Polling wars and coronavirus deaths create election controversy

Guyana - A president tries to steal an election that he lost
I publish a free newsletter every Thursday. If you were forwarded this by email or found this newsletter on social media, please enter your email at https://boz.substack.com/ to receive this newsletter weekly.
 I published three other newsletters this week:
If you want to support this newsletter and receive it four times per week instead of just on Thursdays, please consider subscribing at https://boz.substack.com/subscribe.
---
Region - Climate migration models
One article worth reading this week is the long New York Times Magazine and ProPublica report on the modeling of climate migration. The article focuses on areas of Central America that could be uninhabitable by 2070 due to climate change and drought, forcing millions from their homes. The waves of climate refugees fleeing to Mexico and the United States will be much larger than the numbers of migrants that have come in recent years.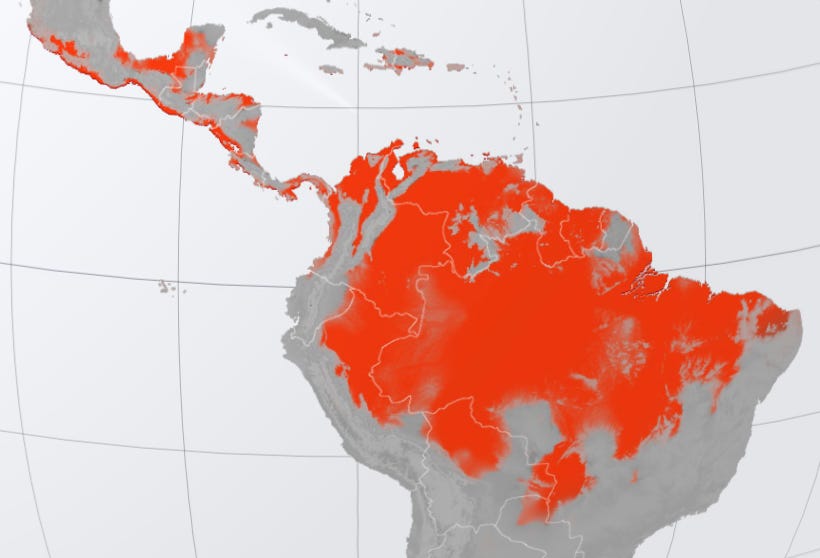 Above: Map from NYT article showing locations that may be uninhabitable by 2070 due to climate change.
The map accompanying the article is frightening. While Central America is the focus of the article, the large areas of Brazil, Colombia, Peru and Venezuela that could be too hot for humans to live are enormous and contain millions of people. Extreme heat in the Amazon will cause additional environmental damage to the entire Earth.
We all know what needs to be done: Mitigation and adaptation to climate change along with more humane policies for refugees forced to flee whatever situation has made them leave their homes. Regional leaders need to move that agenda forward even as the hemisphere deals with the immediate pandemic crisis.
---
Bolivia - Polling wars and coronavirus deaths create election controversy
In yesterday's newsletter I published three polls from Bolivia. One shows MAS candidate Luis Arce with enough support to win the presidency in the first round. All three have Carlos Mesa as his closest competitor. I noted that candidates and their allies will be publishing polls at part of the political battle in the coming weeks.
Bolivia's TSE has given the MAS and Luis Arce 48 hours to respond to a formal complaint that they have illegally published unsanctioned polls that manipulate the media environment. The MAS views these criticisms as part of an authoritarian plot by the Añez administration to undemocratically prevent them from winning this election.
Meanwhile, questions remain over whether the TSE and the Añez administration will even allow the election to be held at all. Hundreds of dead bodies have turned up, suggesting the pandemic's spread is moving much more quickly than Bolivia's health system can manage. It's possible that a new delay for several months will be announced soon.
Postponing an election is never ideal, but Bolivia's situation is particularly tenuous given the questionable legitimacy of Jeanine Añez and the regular criticisms by her opponents that she is attempting to consolidate power and remain beyond her mandate. With Añez falling in the polls, postponing the election benefits the chances to turn around her campaign, even if it is also justified due to the health crisis.
---
Guyana - A president tries to steal an election that he lost
David Granger lost his bid to be reelected as president of Guyana. The ruling party appeared to manipulate the initial vote counting process. The recount monitored by observers showed an opposition victory. The president lost the appeal to the Caribbean Court of Justice. All of this comes after Granger manipulated the system to delay the election for over a year following a no-confidence vote that should have forced swift new elections.
The OAS, which had an observer mission in the country for the election, declared that the incumbent party lost and a power transition to President-elect Irfan Ali of the PPP/C should begin. Caricom has called for Granger to step down. The US has imposed sanctions on the Granger administration to pressure the president to accept his loss.
The international community's willingness to turn against Granger is a sign of how unquestionable the loss is. Granger was clearly the preferred candidate for foreign businesses that want to invest in the country. Prior to this year, Granger had been an ally of the Lima Group and the US on Venezuela - the region's biggest democracy challenge. If there was any question over the validity of the election, Granger would have allies supporting his effort to remain in power. He does not.
The Financial Times warns of a potential "civil war" if Granger refuses to step down. Energy companies that want to operate in Guyana now fear that political instability and sanctions could slow or stop their operations.
So why does Granger believe he can hold on to power? Look next door. Nicolas Maduro still holds on to power in spite of a rigged and unconstitutional reelection campaign in 2018. Maduro has so far survived harsh sanctions and the opposition of almost 60 countries around the world. Further northwest, Juan Orlando Hernandez is still president of Honduras in spite of stealing the 2017 election and a growing number of corruption and drug trafficking charges against him.
A few weeks ago, in the same newsletter where I last wrote about Guyana, I wrote about the controversy over Bolivia's presidential election in which Evo Morales attempted to steal victory in the first round. "When incumbents attempt to steal elections in spite of the presence of observers, it's not clear what should happen next." The messy coup and transition in Bolivia is far from an ideal situation (see the note above), but the alternative of a president like Granger illegally holding on to power is also terrible. Unlike Morales, Granger appears to have fairly solid support within the security forces.
One more recent misstep by the US strengthens Granger. In a Fox News interview last weekend, Donald Trump said he may not accept an election loss in November. Trump's message wasn't directed at the country of Guyana or anywhere else outside of US borders, but Granger and other authoritarian leaders who want to remain in power undemocratically certainly heard a message that supported their position. When there is a US president threatening to take the same unconstitutional actions to hold on to power that Hernandez, Maduro and Granger have done, it's a threat to the democratic gains that the hemisphere has made.
---
Corruption Corner
Brazil - Police searched addresses related to Senator Jose Serra and businessman Jose Seripieri Junior over allegations of illegal campaign funding in 2014. Seripieri owns Qualicorp, a health insurance company.
Honduras - The Honduras Supreme Court denied the appeal of Congresswoman Maria Luisa Borjas, who has been convicted on a "defamation" charge. During her 2017 campaign, Borjas accused Camilo Atala, president of Ficohsa bank, of being behind the murder of environmental activist Berta Caceres. She has also denounced abuses within the Honduran police force. This case is becoming a key example of how the Honduran judicial system targets those denouncing corruption rather than going after the corrupt.
Nicaragua - The US government sanctioned Juan Carlos Ortega Murillo (son of the Ortega-Murillo ruling couple), Ortega testaferro Jose Jorge Mojica Mejia, and several companies that the two men own.
El Salvador - Gato Encerrado reports that Minister of Health Francisco Alabi may have directed $225,000 in coronavirus-related contracts to a business owned by his family members. El Faro claims that 22% of the masks delivered in a separate contract are not usable. That contract was given to a business owned by the family of Gustavo Escalante, a member of Congress.
Venezuela - The US sanctioned the Moron Hernandez brothers, claiming they help move money and gold to enrich the Maduro family.
---
Reading List
WOLA - In Latin America, COVID-19 Risks Permanently Disturbing Civil-Military Relations
Americas Quarterly - Welcome to a New Age of Big(ger) Government in Latin America
Time - Why Armed Groups in Latin America Are Enforcing COVID-19 Lockdowns
Reuters - A fifth of EU soy imports from Brazil could be tainted by deforestation, study says
DPA - Number of military officers in civil service doubles under Bolsonaro
CNN - Brazil's coronavirus chaos provides a global laboratory for the vaccine race
Reuters - Brazil boosts oil exports to Asia as global rivals make record cuts
Bloomberg - Mexican Migration Could Be the First Crisis of 2021
Financial Times - Explosion of violence dooms Mexican leader's bid to calm cartels
Guardian - Femicides rise in Mexico as president cuts budgets of women's shelters
New York Times - ¿Qué tiene que hacer la oposición venezolana para avanzar?
Washington Post - The endless story of Venezuela's lonely, heartbreaking decline
Miami Herald - Biden will lead on Venezuela and Cuba, not spout meaningless promises
Wall Street Journal - Argentine Priest, Energy Executive Forge Huge Food-Aid Program That Doesn't Buy Votes
InSight Crime - Corruption, Cocaine and Gold – The Trials Facing Suriname's New President
Wilson Center - The United Nations and Nicaragua: Opportunities and Risks
CNN - Nicaragua's Ortega says Covid-19 is under control, unlike in 'capitalist' countries. Local epidemiologists disagree
Foreign Policy - Uruguay Emerges as a Rare Pandemic Winner in Latin America
Guardian - Paraguay violence flares as smugglers battle coronavirus border closure
Miami Herald - Haiti's fuel shortage and chronic blackouts are back. This time it's lack of diesel.
Bloomberg - Covid-19 May Destroy Chile's Iconic Pension System
Economist - Covid-19 hastens changes to Chile's market-led economic model
InSight Crime - Coronavirus Unrest Sparks Surge in Riots in Latin America's Prisons
Associated Press - In French Guiana, virus exposes inequality, colonial legacy
Reuters - Global banks scrutinize their Hong Kong clients for pro-democracy ties
Bloomberg - Africa Starts to Have Second Thoughts About That Chinese Money
---
Thanks for reading
I feel obligated to inform readers that Bolsonaro was bitten by an emu again and there is video of it here.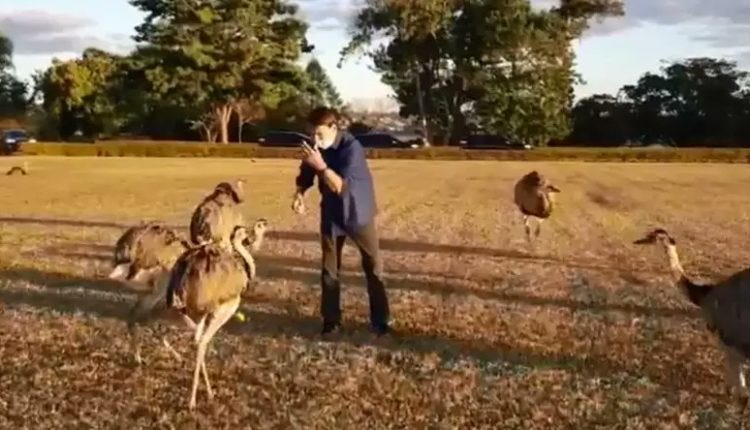 Please email me with your comments and questions.