Latin America Risk Report - 14 February 2019
AMLO is popular; Bolivia's energy issues overlap the election year; Guaido is winning slowly

In this edition:
Update on AMLO's popularity

Key points on Guanajuato security

Bolivia strikes a lithium deal

Reviewing the stability factors in Venezuela
On Tuesday, paying subscribers received a report on security in the state of Guanajuato, Mexico, and a profile of the Cartel Santa Rosa de Lima (CSRL) that has gained ground in the past two years and now looks to expand into neighboring states, challenging the CJNG.
AMLO is still popular
A recent El Financiero poll shows Mexican President Andres Manuel Lopez Obrador gaining approval in recent weeks and reaching 86%, the highest point of his short term.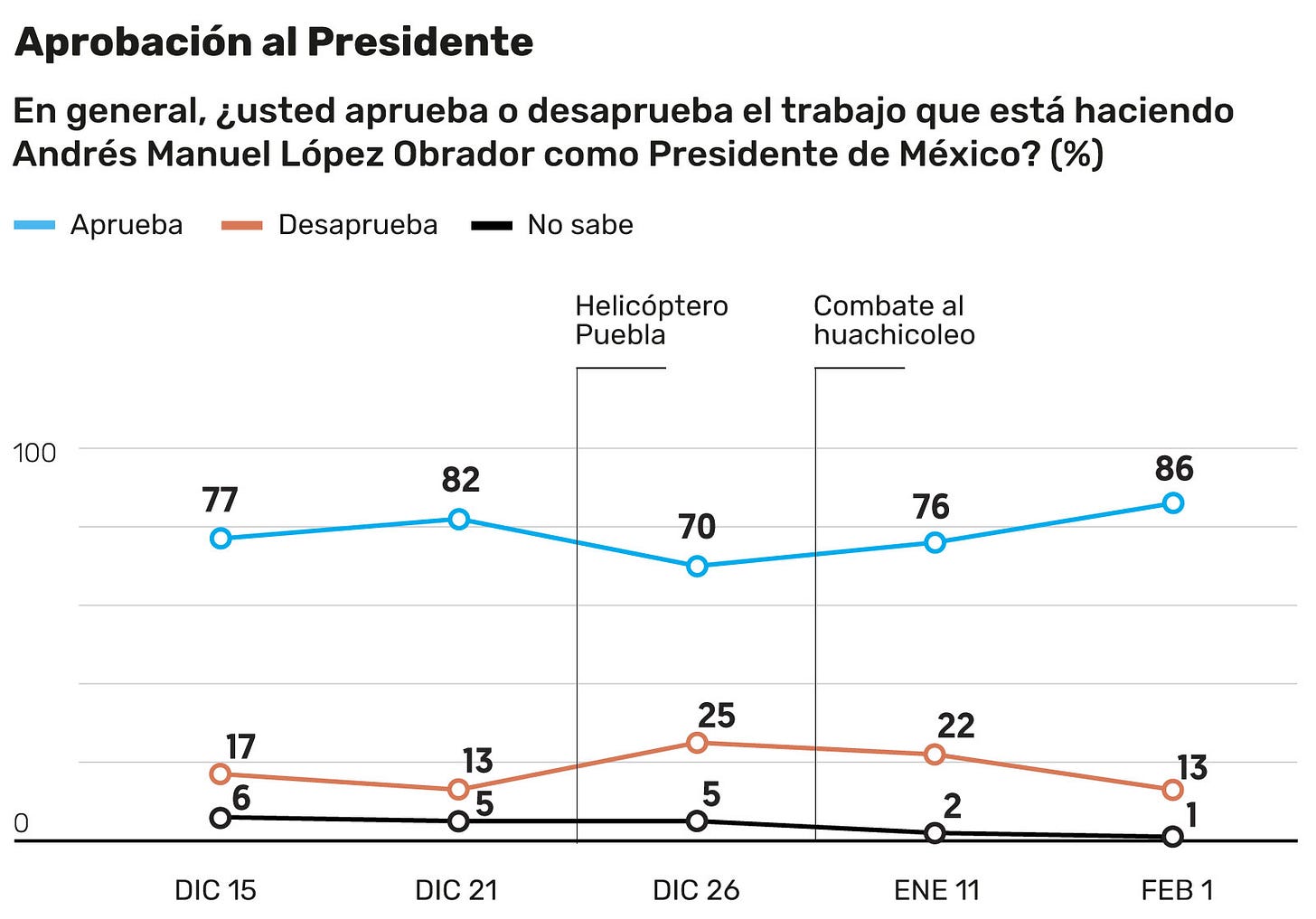 AMLO has made mistakes. Domestically, his fight against fuel theft led to gasoline shortages around the country. He has also seen various corruption allegations against individuals at Pemex and in his cabinet. Internationally, Mexico's stance on Venezuela could come back to harm him and it has isolated the country around the region.
The main reason AMLO maintains very solid levels of support is that he appears engaged and attempting to tackle the problems the country feels are important. His daily press conference combined with events throughout every work day have meant the president addresses every question head on, contrasted with his predecessor who rarely spoke to the media and often dodged uncomfortable issues.
In recent weeks AMLO's rhetoric has shifted from stopping fuel pipeline theft to bigger reforms involving lowering Pemex's tax burden and changing how the gas pipelines built by various private sector firms are managed. He continues to promote his plan to upgrade refineries and build new refineries. While most analysts and the market are skeptical of AMLO's plans in this area, reversing aspects of Peña Nieto's energy reform and bringing "energy sovereignty" back to Mexico is a popular position in the country.
AMLO regularly claims credit for an improved economic position and better security. While that may be a smart communications strategy that is also helping boost his popularity, the data do not match his reality and it is still far too early in his term to give him real credit for any progress that has been made.
The biggest two threats to AMLO's popularity in the coming months are a real fall in the economy or a real worsening of the security environment that break down his narrative. On the economy, the bond market suggests Mexico's credit rating will soon fall. On security, the CJNG continue to expand, just this week threatening to take action in and around Mexico City, something neither the Sinaloa Cartel nor the Zetas ever publicly attempted. That CJNG expansion is disrupting the criminal environment in a way likely to bring more criminal on criminal violence.
Guanajuato's violence and the CSRL
Key points from Tuesday's report:
The rising violence in Guanajuato is driven by fuel theft and conflict among criminal groups, particularly the Jalisco New Generation Cartel (CJNG) and the growing Santa Rosa de Lima Cartel (CSRL).

The CSRL has expanded in the past two years from a small-time oil theft gang in a few municipalities to an organization with multiple income streams that has ambitions of becoming a multi-state criminal group rivaling some of the largest in the country.

The group's leader, El Marro, may have overreached by threatening the life of President Andres Manuel Lopez Obrador. This threat along with his continued oil theft has made him a top target for the AMLO administration.

Whatever the fate of the CSRL, the recent violence has exposed the government's lack of capabilities to provide security in Guanajuato. The state has descended into a negative spiral of violence that will be difficult to correct.
To read the full report, subscribe here.
Bolivia strikes a lithium deal
Bolivia announced a major lithium deal, picking China's Xinjiang TBEA Group to take a 49% stake in a $2.3 billion lithium project with YLB, the state lithium company. As Novam Portam writes:
"While this investment has the potential give Bolivia a boost, the lack of investment in the value-added lithium chain — like that in Chile — means the upside is limited. With lots of financing in natural resources and not as much oversight, we are left asking the question: is Bolivia the next Ecuador?"
Meanwhile, Bloomberg profiles Bolivia's challenge negotiating its natural gas export contract with Brazil's new administration. The Bolivian government is concerned that the Bolsonaro administration will either make those negotiations difficult as a way to harm Morales in an election year or simply to gain leverage to get Brazil lower prices. Brazil needs energy supplies, but Bolsonaro's desire to knock out an ideological opponent may be too tempting.
Venezuela stability update
In the 29 January post for subscribers I listed several things to watch regarding stability in Venezuela. This is a short update on some those items as of 14 February:
Restrictions on the flow of money: The sanctions have had a very quick impact on Maduro's finances and initial indications are that the impact is likely to strengthen over the coming months. While Maduro has tried to find alternatives, those alternatives have been slow and the US and other governments have worked to block those alternatives.
Other countries joining: The European Union now backs President Guaido and is in the process of assisting his gaining control of the country's financial accounts, though it is not joining the sanctions imposed by the US. The Lima Group continues to make strong statements in support of Guaido.
Defections: There have been three defections from the military: a general and two colonels. While there are plenty of rumors of defections that are likely in the near future, additional military and civilian leaders have yet to jump.
Any backtracking by China, Russia or Cuba: This is another case where the rumors outweigh the confirmed facts. There are plenty of rumors that China and Russia have lessened their support for Maduro. However, China's mildly hedged statements are the only evidence of any reduced support. Sources tell Hxagon that over the past week Russia has provided significant advice and support to Maduro, particularly as it relates to oil deals and navigating financial transactions that can evade the US-imposed sanctions. Some of this appears to be Russia making a few final dollars off Maduro before he's forced out, but it's certainly not a sign of backtracking.
Hedged statements by Padrino Lopez: Maduro's Defense Minister remains a key player in that he is holding together the leadership of the armed forces and discussing how they can coordinate their strategy for whatever comes next. He is neither the most nor the least pro-Maduro among the military commanders.
Guaido: The interim president is still free. Maduro's inability to jail the interim president and repress his movement is more likely a sign of weakness than strength. It suggests Maduro fears giving an order security forces reject in a way that could lead to his downfall.
Protest crowd size: Guaido continues to draw large crowds, but has been careful not to call people out too often. The next big event will be on 23 February, when crowds will be asked to not just go to the street but to help distribute aid in some manner. While some media will portray it as a final showdown, Guaido and his advisors continue to suggest it is just one more step in a potentially longer process.
Overall: Guaido has slowly gained ground in the past two weeks. Maduro's ability to hold out depends on finances and the military. The financial sanctions are hitting quite hard, in spite of being in place for less than three weeks, and are likely to tighten in the months to come. That financial pressure significantly weakens Maduro's ability to remain in power. The lack of defections, however, demonstrates a level of unity among the military leadership and the Chavista civilians that will continue even after Maduro falls.
Corruption Corner
Honduras - The MACCIH has proposed a constitutional reform to improve the independence of judges. Meanwhile, members of the National Party and the Supreme Court appear to be plotting the removal of the anti-corruption organization.
Brazil - Prosecutors in Brazil are sharing information with the FBI about their investigation into Trafigura Group, Vitol and Glencore. Prosecutors claim intermediaries for the three companies paid millions in bribes to Petrobras in exchange for better contract terms.
Reading List
Business Insider - Venezuela's 'king-maker' is fraying, and nobody knows what comes next
InSight Crime and Wilson Center - Mexico's Role in the Deadly Rise of Fentanyl
Confidencial (Nicaragua) - "La orden era eliminar a los líderes de la protesta"
Reuters - How Venezuela turns its useless bank notes into gold
Foreign Policy - Rubio Blocks Trump's Honduras Envoy
Bloomberg - In Brazil, the Cat's Away and the Mice Just Aren't Playing Nice
Thanks for reading!
This week's newsletter was sent a little late due to the snow day in Montreal yesterday. Thanks to everyone for reading, subscribing and passing the newsletter along to your colleagues.