Discover more from Latin America Risk Report
Daily analysis of politics and security in Latin America.
Over 6,000 subscribers
Politics and Polls - 23 September 2020
Presidential election polls from Bolivia, Ecuador and Peru

Three sets of polls today:
Bolivia - Añez drops out after polls show her losing support

Ecuador - Questionable polls with unclear results

Peru - Another presidential election with many undecided voters
I write about polls every Wednesday.  If you want to be added to the newsletter distribution list, please enter your email at https://boz.substack.com/ or email me at boz@substack.com and I will add you.
Bolivia - Añez drops out after polls show her losing support
Last week, I wrote that the opposition vote was divided in a way that made it quite probable that Luis Arce, the candidate for the MAS, could win in the first round. 
A few hours later, Tu Voto Cuenta published a poll of 16,000 including 3,000 in rural areas that showed Arce with a strong potential to win in the first round. Tu Voto Cuenta had the race Arce 29, Mesa 19, Camacho 10, Anez 8. With only valid votes counted (all the usual warnings about that apply), that gave Arce slightly over the 40% and ten point margin he needs to win in the first round.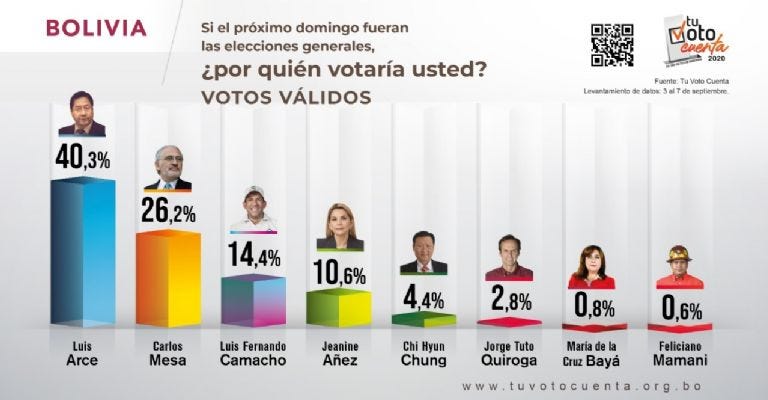 Above: The results of the poll with the undecided and null votes removed.
After that poll was published, President Añez dropped out of the race, specifically citing her desire to avoid a MAS victory. It's a good case study for how polling and the media coverage of polls can influence the events in a campaign.
Añez did not endorse either Mesa or Camacho. In spite of speculation on both sides, it's not clear which candidate her supporters will choose (I think they'll divide rather evenly between the two).
A poll published this week from Focaliza was very similar to the Tu Voto Cuenta poll and has the race Arce 29, Mesa 20, Camacho 10, Añez 8.
Even with Añez dropping out, my aggregation of the public polls suggests Arce is still very close to the 40% threshold he needs to win in the first round.
Ecuador - Questionable polls with unclear results
After months of very few public polls in Ecuador, a wave of polls related to Ecuador have spread around social media over the past two weeks. These polls come with a lot of caveats. 
Most of these polling firms have little track record in Ecuador. 

The one polling firm with a long track record is publishing results from an atypical question.

Some of these numbers come from social media and WhatsApp and not from the polling firms themselves or reputable media outlets.

It's early in the campaign, voters still don't know many of the candidates.

All of the polls show a large number of undecided voters and protest votes.
But we're all starved for data in Ecuador, so here are some of the polls I've seen with all those caveats in mind:
Atlas Intel reports their poll as Andres Arauz 45%, Guillermo Lasso 32%, Yaku Perez, 4%. They also say that a hypothetical second round has Arauz over Lasso 48-39.

Eurek Now has Lasso 23, Arauz 22, Perez 21, Montufar 10.

A polling firm calling itself Nacional has Arauz 27, Lasso 18, Perez 16.

Media published results from a Cedatos poll asking who voters thought would win (a very different question from who they plan to vote for) and showed the result: Lasso 34%, Arauz 16%, Perez 7%.
Arauz is known as the candidate backed by Correa and Lasso is a perennial candidate for business interests. At this stage in the contest, both of them lead thanks to name recognition. There is plenty of room for other candidates to gain support in the coming months.
This morning, it appears that Correa will attempt to run as vice president with Arauz, but it's not clear if it will be allowed.
One additional warning. Certain websites and social media feeds are sharing polls including the ones above but removing all of the undecided and protest voters. In several cases, that allows candidates to reach above 50% of the vote thanks to the manipulation of the data.
One of the few things I feel certain of in Ecuador is that no candidate currently has over 50% support. It's a wide open race. 
Peru - Another presidential election with many undecided voters
Ipsos polled voters about next year's presidential race with George Forsyth 23, Daniel Urresti 9, Keiko Fujimori 7, Veronika Mendoza 4. 
That's a lot of people who don't know who they're voting for. Unlike Ecuador or Bolivia, Peru's president has over 50% approval and could play kingmaker if he chooses. 
The same Ipsos poll shows 62% of Peruvians identify as independent and no political party has more than 10% support. The poll was taken prior to the impeachment vote last week. 
Thanks for reading
Have a great afternoon!