Politics and Polls - 19 August 2020
A tie in Bolivia; Correa running for VP in Ecuador

In today's edition:
Bolivia - Poll shows a tie between Arce and Mesa

Brazil - Bolsonaro's approval ratings remain strong

Colombia - New poll points to a divided 2022 field

Ecuador - Rafael Correa will run as vice president

Venezuela - Coronavirus and internal power struggles
Bolivia - Poll shows a tie between Arce and Mesa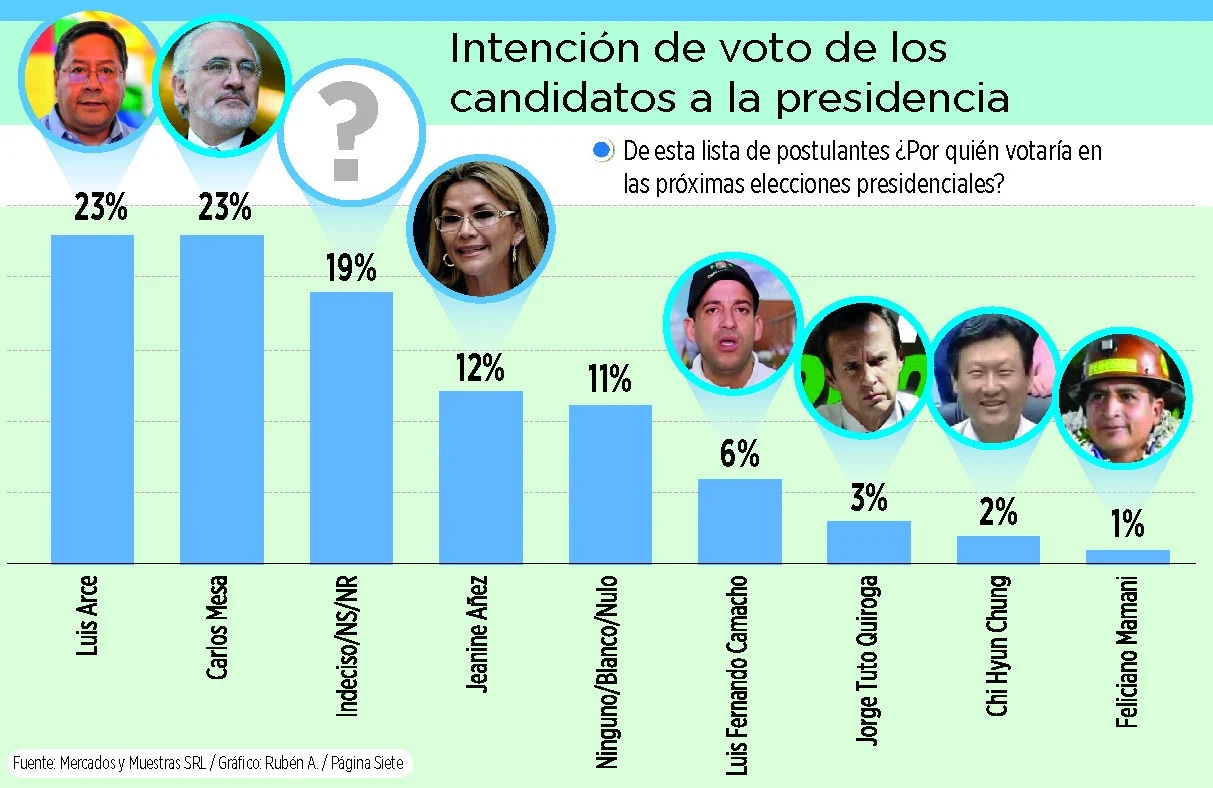 Source: Página Siete
A poll from Mercados y Muestras shows a tie, with MAS candidate Luis Arce and former President Carlos Mesa receiving 23% of the total vote. The current interim president Jeanine Añez has fallen to 12%.
There are growing calls for Añez to drop out of the race in order to consolidate the anti-MAS vote and prevent a first round victory by Arce. Añez's management of the government and economy has hurt her popularity, even with citizens who are opposed to the MAS.
The poll targets cell phone users in Bolivia, meaning some populations (which likely lean towards the MAS) may be left out. An additional challenge in analyzing this poll is that 30% of voters say they are undecided, refuse to give a response, or plan to spoil their ballots.
Brazil - Bolsonaro's approval ratings remain strong
Datafolha published a new poll showing Bolsonaro's approval rating up five points to 37% and his disapproval rating dropping ten points to 34%.
The Inter-American Dialogue's Latin America Advisor published my comments on the public support for Bolsonaro:
"President Bolsonaro's approval ratings have been relatively steady in spite of a totally mismanaged response to coronavirus that has killed more than 100,000 Brazilians. The president has retained a solid base of support of about a third of the population. While that's not enough to win the next election, it is significantly better than several other presidents in Latin America, including Chile's Sebastian Piñera, a testament to the power of polarization within a political system. Public opinion aside, Bolsonaro's political coalition is having a hard time holding together. Military commanders have leaked comments to the media about their embarrassment at the president's poor handling of the pandemic and absurd personal behavior. Members of Congress are considering impeachment, though the congressional leadership has held off so far to avoid sparking a greater political crisis amid the pandemic. Bolsonaro has clashed with nearly everyone, including popular governors and mayors, his own health ministers and the Supreme Court, while doing almost nothing to build alliances outside of his family connections. It's a recipe for political disaster in the coming year."
In summary: Bolsonaro's approval ratings may be stable or even improving, but he is having challenges with the coalitions he needs to govern in Congress and within his own cabinet.
Regarding the Datafolha poll, other analysts pointed to the government's cash handouts as a reason for the president's improving approval ratings. It is notable that Bolsonaro, even with his deficit hawks within his government, has done a better job handing out money than other populists around the region including in Mexico.
Colombia - New poll points to a divided 2022 field
Two polls in Colombia provide diverging views of Duque's approval ratings. Guarumo has Duque at 59% approval with 36% disapproving. Only 24% approve of Uribe's detention. Invamer shows a much worse result for Duque with 48% approving and 47% disapproving. 
The Invamer poll also asks about the 2022 election and shows Gustavo Petro leading with 33%, followed by Sergio Fajardo with 23%, Humberto de la Calle with 12% and Marta Lucia Ramirez with 11%.
Petro's challenge is that his disapproval rating is around 47%, the highest of any Colombian politician polled and one of the few with a net negative approval rating.
Ecuador - Rafael Correa will run as vice president
Former President Rafael Correa is following the model of Argentina's Cristina Fernandez de Kirchner, choosing to run as vice president in next year's election while naming his presidential running mate. Correa, like Kirchner, has a number of active corruption investigations against him that he hopes to avoid by becoming the VP. Unlike Kirchner, Correa is currently in exile.
Andres Arauz, an economist and former government minister, will be the presidential candidate for Correa's party. Correa has chosen someone young who he hopes he can influence.
Venezuela - Coronavirus and internal power struggles
Two issues in Venezuela this week suggest all is not well in the ruling circle.
1. Coronavirus is hitting the Maduro regime hard. Dario Vivas, the head of the capital region, died of Covid-19. Several other top Maduro allies including Jorge Rodriguez and Freddy Bernal have tested positive. The rumor mill suggests a large number of mid-level political and military leaders have also tested positive. While most have little or no symptoms, any severe illness or death can shake a ruling coalition that survives thanks to a careful power balance within.
Diosdado, who was quite ill with coronavirus, appeared on television this week to counteract the rumors that he is dead or has been otherwise sidelined by Maduro. At the same time, announcements about the end of the ANC later this year point to Diosdado potentially losing his main power structure. The other officials who must quarantine with coronavirus may be watching Diosdado's potential loss of influence during his illness with dread.
2. In recent weeks, members of various leftwing political organizations in Venezuela claim that the regime has sent armed criminal groups to target them. Maduro appears to be attacking communists and other leftwing ideologues who once supported Hugo Chavez but have retained some independence from Maduro's party structure. Part of that fight spilled over into the public this week as the regime's Supreme Court ordered the takeover of the Tupamaros political organization. 
Maduro's current attempt to hijack the traditional left-wing Tupamaros party comes with additional risks for the ruling regime. The Tupamaros leadership have called for other leftwing allies to rise up against Maduro. The Tupamaros have long-standing ties to armed groups that predate the Chavez era. Their call for people and parties to rise up may not imply peaceful protests and could lead to an increase in politically-motivated violence in the country.
Thanks for reading
Please email me with any comments or questions. If you were forwarded this email, please enter your email at https://boz.substack.com/ to receive this newsletter daily.