Discover more from Latin America Risk Report
Daily analysis of politics and security in Latin America.
Over 6,000 subscribers
Mexico - Three maps, Ten points - January 2020
Visualizing homicide data and cartel presence

Mexico's Secretaria de Seguridad y Proteccion Ciudadana reported its official homicide count for 2019 as 34,582, which is approximately 2.5% higher than in 2018. 
Starting with that new data, I have been working over the past week to do some basic visualizations of Mexico's conflict. Below are three maps I've put together that attempt to describe the security situation around the country along with some comments about the data being represented. 
Homicides per capita
This map represents the number of homicides per capita, using the data from Semaforo Delectivo. Those statistics vary slightly from the statistics published by the government, but not enough to change any of the colors on the map.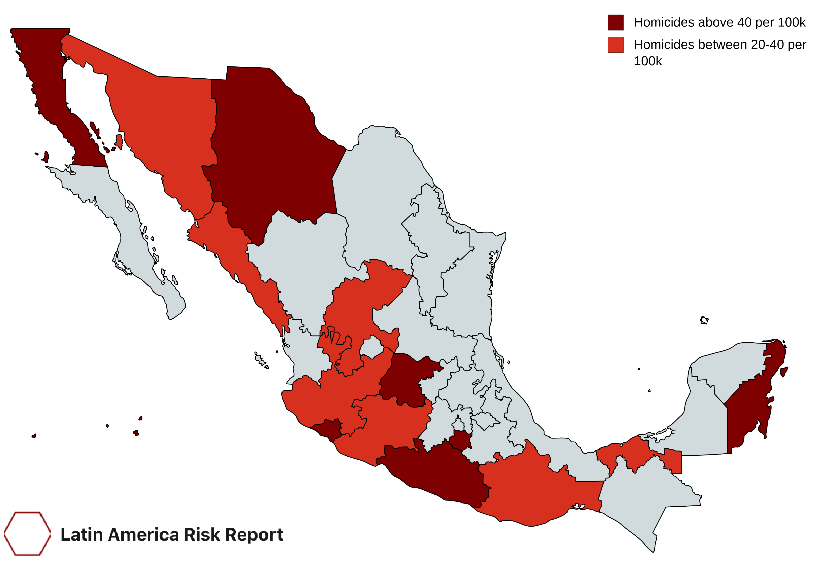 The violence in Baja California, one of Mexico's most dangerous states, is particularly focused around the city of Tijuana. A single municipality makes up a majority of the homicides.

Quintana Roo has become more violent. That violence has limited direct impact on the tourist resorts. The Mexican government is very concerned that tourists will begin avoiding the state due to the rise in violence.

Oaxaca and Tabasco are more violent per capita than many other states, a fact that surprised me. Looking at the trends in those states since 2015, the growing homicide rates suggest a problem of violence in southern Mexico that has not been well documented in the media.

The fact Tamaulipas, Veracruz and Estado de Mexico aren't among the most violent per capita does not mean they are safe. All three states, which are among Mexico's most populous, contain some of the most violent municipalities in the country and multiple violent criminal groups engaging in extortion, kidnapping and cargo theft.
Map of criminal groups
This is an attempt to provide a top level map of the current criminal presence in Mexico based on my own analysis of the state by state situation. Any map attempting to do this type of high level generalization is open for criticism. As Mexico's criminal conflict has grown more complex, there are increasing numbers of groups coexisting and clashing in various states. State boundaries are not necessarily the dividing lines for the criminal groups.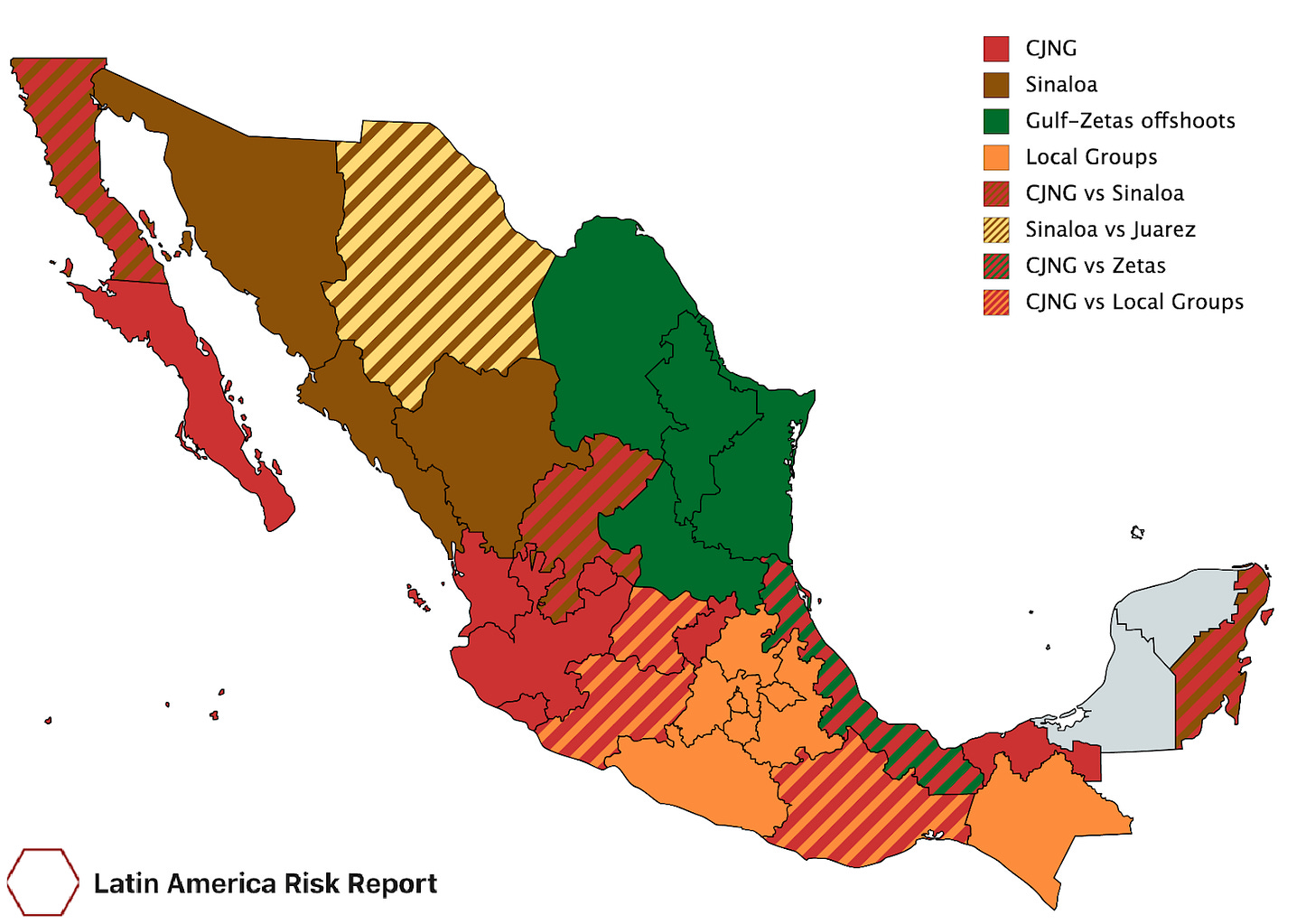 The dynamics in the Northeast remain quite different from the rest of Mexico, with the conflicts among the various offshoots of the Gulf and Zetas driving local violence.

The few states where I list Sinaloa territorial presence does not negate how powerful the group is. They control key routes outside of Mexico and near the border. They have alliances with groups around Mexico and are working to undermine the CJNG. Their presence and financing is bigger than the territory shows.

The orange territory marking local groups is of interest because there are so many smaller groups that fight one another for control of drug sales, extortion and oil theft. In a future map, I may attempt to list out all the groups individually, but it was easier to note here that there is a region in central Mexico near the capital where no large cartel has control.
The CJNG narrative map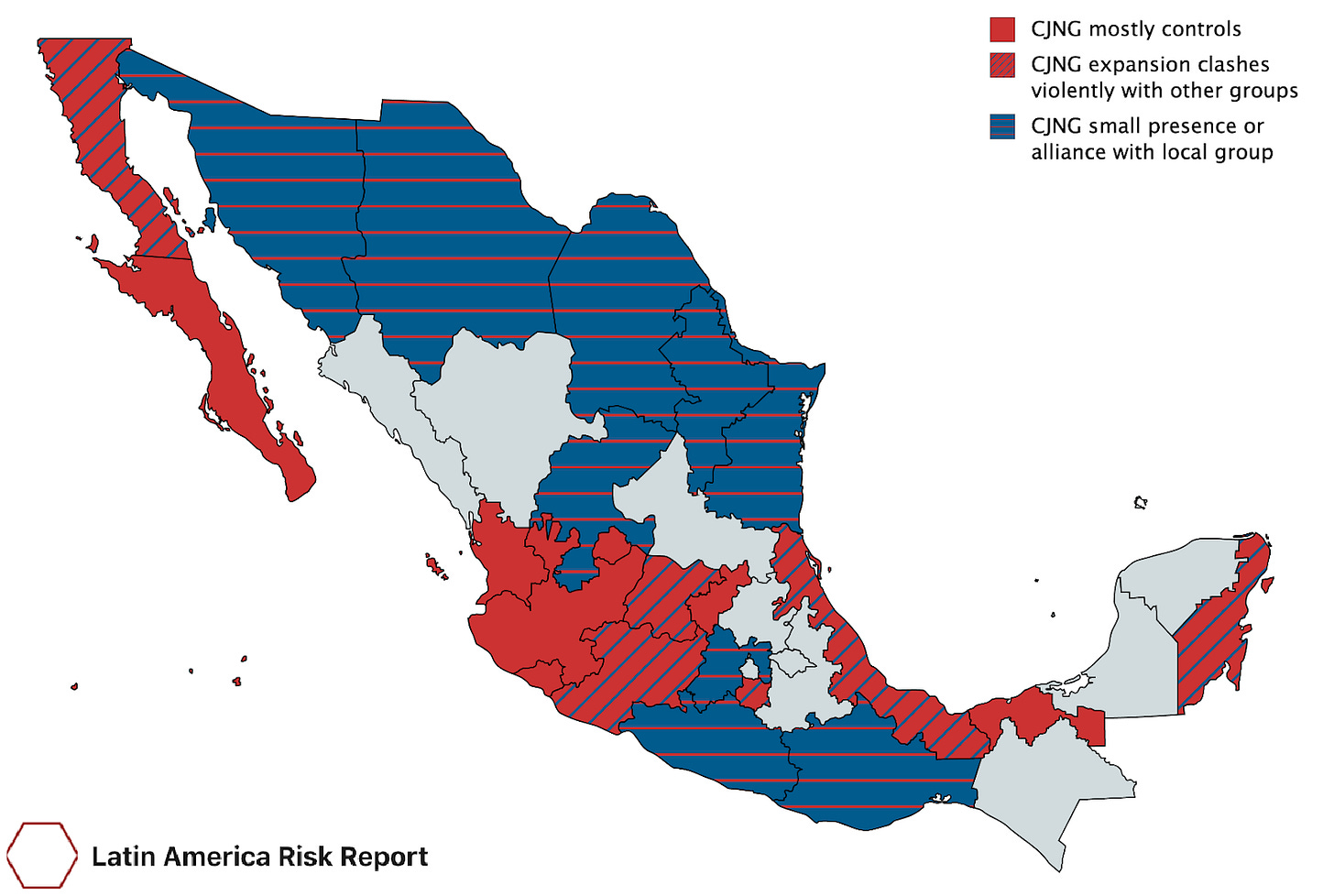 This map overlaps with the map of violence above. As I've written previously, the CJNG expansion leads to clashes with other groups and increases violence. 

Two states where this map does not overlap are Veracruz and Colima. That is causing me to reconsider the narrative in both states. Perhaps the CJNG control over Colima and the port of Manzanillo is being more heavily contested than is reported and perhaps the CJNG vs Zetas fight in Veracruz is not as big as some headlines make it out to be. I will be asking sources in Mexico about these points.

This map also makes a case for AMLO to focus more directly on the CJNG. Most of the national efforts so far have gone towards combating smaller groups, with a particular emphasis by the AMLO administration on taking down the Cartel del Noreste in Nuevo Laredo and the CSRL in Guanajuato.
Thanks for reading and subscribing
The maps oversimplify Mexico's violence, but they are a good starting point for analysis and debate. I'm eager to hear comments and potential corrections from those who have more updated information.