Mexico - Corruption and Cienfuegos
The arrest in the US of Mexico's former secretary of defense demonstrates corruption challenges for Mexico and the US.
General Salvador Cienfuegos Zepeda served as minister of defense under President Enrique Peña Nieto. Last week, he was arrested in the United States and indicted on charges that he collaborated with H2, a successor to the Beltran Leyva Organization, while he was minister of defense.
Among the accusations, Cienfuegos tipped off H2 about Mexican military operations and US investigations as well as helped them secure maritime trafficking routes. In at least one instance, a tip from the former general led to the execution of an informant.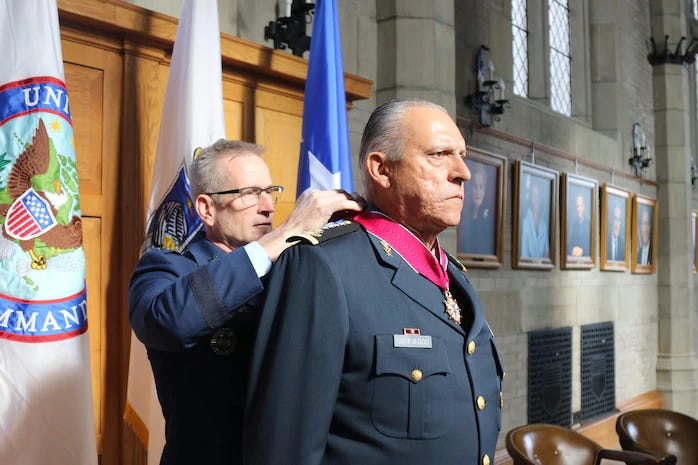 Above: The commander of US Northcom presenting an award to General Cienfuegos in 2018. Photo By: MSgt John Gordinier
Plata over Plomo: The Sinaloa Cartel and BLO have thrived by bribing key officials. When criminal organizations choose to exercise influence and control through violence, the results are usually visible in the short term. For that reason, the violent rise of the CJNG and its conflicts with other criminal groups have received a lot of attention in recent years. The Sinaloa Cartel and BLO, in contrast, have engaged in more bribery than violence in their rise (though they are still quite violent when they choose to be). This softer touch by these two groups has been harder to see on a daily basis, but has arguably given them greater power.
This arrest could accelerate the CJNG's aggressive violence. The arrest of Cienfuegos likely confirms the worst fears of the CJNG that the Mexican government has targeted them at times as a way of helping their criminal rivals. The Jalisco-based cartel certainly engages in plenty of its own bribing, particularly of state and municipal level officials along the Pacific coast. However, if they believe that the federal government is acting as a rival criminal group, it could explain why they have become more aggressive including their attacks against local police forces in various states and government officials in Mexico City.
Bribery did not stop with the EPN administration exit. The Cienfuegos case adds to the evidence that numerous civilian and military officials were being bribed during the previous administration in Mexico. AMLO would have people believe that his administration is clean, but it's absurd to believe that the bribery stopped magically in December 2018. Many of the military commanders currently in place worked with Cienfuegos. Many within the bureaucracy of Pemex, CFE and elsewhere remained and some with known ties to corruption scandals under EPN have been promoted by AMLO.
The charges threaten the military's role in the country. The military was long seen as less corrupt than local police forces, but the involvement of the military in counter-narcotics and domestic security operations over the past 15 years has opened the doors to corruption. Criminal groups have incentives to bribe or threaten their way into the military ranks.
That is a problem as AMLO still trusts the military and loves the military. On security, AMLO continues to use the military and has created a National Guard that is essentially military forces in new uniforms. He has given the military roles including protection of ports and customs issues that, if there are corrupt elements of the military, will facilitate drug trafficking. AMLO has also given the military lots of non-traditional tasks including control over construction projects and oversight at Pemex to prevent corruption. AMLO's goal now will be to prevent the scandals from past administrations from impacting the current military leadership and the president's image. However, he should be concerned about cleaning up corruption in the military, not covering it up for his own political benefit.
Military corruption has a China angle. There is a lot of focus in the media on who is allowing drugs through the northern border. But a bigger question in recent years is who is facilitating the entry of precursor chemicals for meth and fentanyl from Asia, especially China, into Mexican ports. The indictment of Cienfuegos offers hints that corruption in the military has at times allowed drugs to come in through the ports. This angle is significant as AMLO has expanded the role of the military in ports and customs.
AMLO's rhetoric on anti-corruption doesn't match reality. Mexico's president has spent a lot of time focusing on his anti-corruption efforts and accusing previous administrations of corruption. That rhetoric has given him a recent boost in public approval. However, corruption investigations, indictments, prosecutions and convictions are moving significantly slower than his rhetoric. This is the second major former official to be indicted by the United States and Lopez Obrador has not moved to follow up on the investigations in Mexico.
This is a blow to US counter-narcotics strategy around the region. The US works with security forces around the region to stop drug trafficking and organized crime. It's a mistake for the US to indict Cienfuegos and pretend like this (on top of the arrest of former Secretary of Public Security Garcia Luna last year) is some sort of isolated mistake from the past. The US worked closely with Cienfuegos and it now appears that the Mexican general used his position to benefit certain criminal organizations over others. The US needs to investigate which of its current partners are involved in organized crime and make the hard choices to not work with them.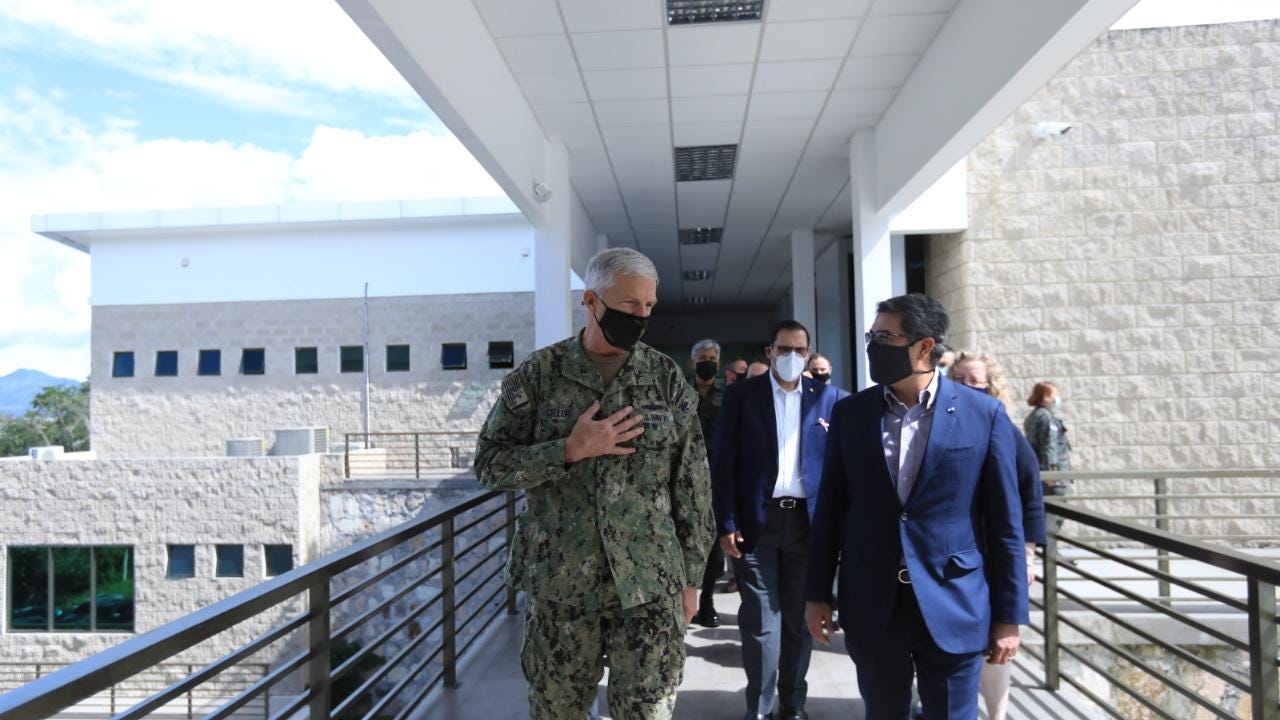 Above: US Southcom's commander met with Juan Orlando Hernandez in Honduras yesterday, 19 October 2020. 
---
Thanks for reading
If you want to be added to the newsletter distribution list, please enter your email at https://boz.substack.com/ or email me at boz@substack.com and I will add you.