Latin America Risk Report - 19 September 2019
Peru's poll numbers show a power vacuum is forming as the country heads towards early elections

In this edition
More polls, because readers seem to like polls.
Paying subscribers this week received an analysis of the security situation in the state of Tamaulipas, Mexico. More paying subscribers will equal more resources for me to do polling data analysis as well as maps and graphics related to security. Thanks to current subscribers for their support. If you'd like to subscribe, please click the link below:
A Peruvian power vacuum
Key point: President Martin Vizcarra's popularity has dropped below the 50% mark, but his opponents are not getting stronger. This lack of any popular leader leaves a power vacuum in Peru, even as the country appears likely to hold early general elections in 2020.
A new poll from Ipsos-Apoyo has President Vizcarra's approval at 48%, a drop of six points in the past month.
Vizcarra's drop in approval comes largely from the top levels of the economic spectrum, with support from Peru's wealthiest falling over 20 points. While Peru's wealthy are a small portion of the total population, this segment of the population does have important political influence. Another factor contributing to the drop is Vizcarra's lack of popularity in southern Peru, where his government has faced regular mining protests.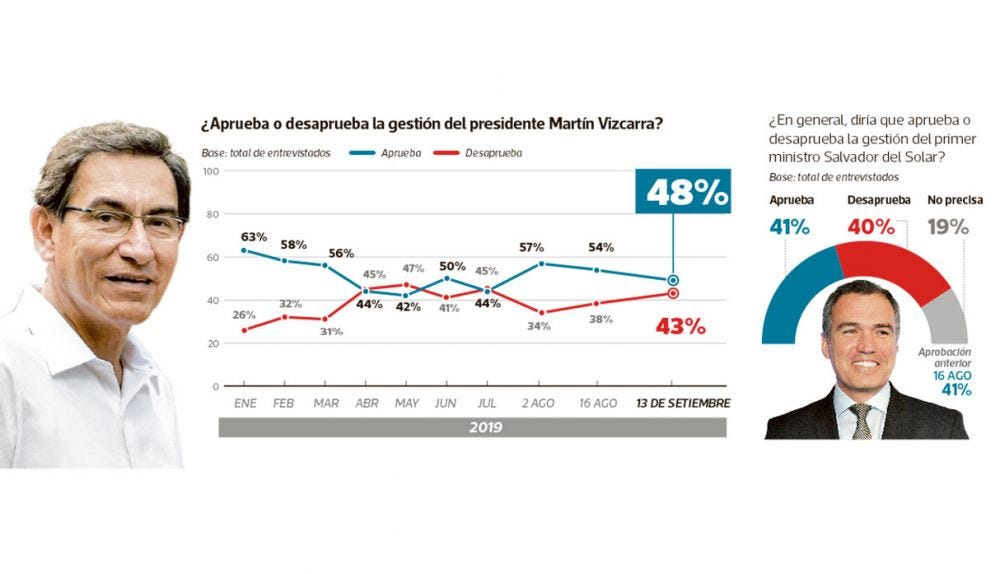 Corruption is the top issue for most voters
Those who support Vizcarra credit his fight against corruption and plans for political reform. Those who oppose Vizcarra blame his lack of progress on corruption, as well as lack of economic growth.
In general, Peru's population remains focused on corruption issues and believes the political system needs a complete overhaul. 
Early elections remain popular
In spite of the president's approval dropping, 70% of Peru's population remains in favor of Vizcarra's proposal to move the elections forward by one year. 
Everyone still hates Peru's Congress
Congress retains a 78% disapproval. The head of Congress, Pedro Olaechea, only has 15% approval contrasted with 68% disapproval. Those numbers alone explain why many members of Congress oppose early elections. There is widespread disapproval of a hypothetical Congressional impeachment of Vizcarra. Most of the population believes Congress is an obstacle to political reform and actively working to harm the president.
In that, the Peruvian public is correct. Peru's Congress is trying to delay any votes on Vizcarra's election reform proposal, hoping that his popularity diminishes with time and that they are able to ruin his reputation with the investigation into "CyM Vizcarra," a business run by the president's brother where the president used to work. There are allegations - but not conclusive evidence - that CyM paid bribes and that Vizcarra directed contracts to his brother's business after reaching public office.
Bolivia poll controversy
President Evo Morales censored a polling firm that published a polling result showing a close election in which Morales would not win in the first round. The Higher University of San Andres (UMSA) said Morales only had 31% of the vote vs 25% for Carlos Mesa. That same poll had 29% answering they did not know or would cast a blank ballot, higher than many other polls.
Morales's reaction to the poll shows a level of nervousness by Bolivia's president. He is counting on the narrative that his victory is inevitable. Any cracks in that narrative could help drive his opponents to the polls and force a second round where he would be much more vulnerable against a united opposition. Another concern of Morales is that polls showing a close election could cast doubts on the credibility of the election if Morales obtains a large margin of victory. 
AMLO popular almost everywhere, but his weak spots could signal future problems
A poll from El Financiero showed AMLO with 69% approval, in line with many other polls. This poll also offered results by states. While AMLO is popular throughout most of the country, he faces two areas of weakness. 
In Guanajuato, AMLO's 48% approval rating coincides with the state having the highest level of concerns about insecurity. 
AMLO's 50% approval in Ciudad de Mexico is also problematic as Mexico City's residents arguably know the former mayor best and have been the first to become disillusioned with his government. However, part of AMLO's unpopularity in the capital may be blamed on the current mayor, who is also part of AMLO's Morena party and whose governance in recent months has been heavily criticized.
Argentina polls mirror PASO results
New polls from Ricardo Rouvier and Circuitos show Fernandez close to the 50% mark with a 15-18 point lead over President Mauricio Macri. Both polling firms have adjusted their models based on the PASO results and, with little surprise, have new polls predicting the first round will look very similar to the PASO. While this is a safe prediction, it also creates the risk of yet another big miss by the polls if the electorate shifts and the PASO-tilted polling models fail to capture that voter movement. That risk of a polling error could go in either direction (a bigger Fernandez margin or a Macri comeback).
Venezuela update: Negotiations, false negotiations, power politics, and oil prices
Juan Guaido announced the Barbados negotiations process is over after Maduro's side refused to show up for multiple weeks.
Guaido told the media that he offered to step down if Maduro did the same, creating the potential for a transition government that included military representation. By making the offer public, Guaido extended an olive branch to the military and demonstrated that they may be able to get a better deal with Maduro out of power. 
Maduro's FARC troubles: Maduro appears to be flustered by the ongoing narrative regarding the ELN and FARC presence in Venezuela and the recent acceleration of the debate over the implementation of the Rio Treaty (TIAR). Maduro's concerns about being blamed for harboring terrorists add to the significant impact sanctions are having on his stability. Maduro tried to distract with an over-the-top response of military exercises near the border. He tried to change the subject by pointing to two photos of Guaido with Rastrojos leaders who were also taking refuge in Venezuela. Neither of those moves appear to have changed to focus for the hemisphere, which will discuss the issue under the framework of the TIAR next week.
False negotiations: Maduro's reopening negotiations with a small branch of the opposition who disagree with Guaido's strategy and the recent release of political prisoners appear aimed to gain his side some good will going into the UN General Assembly meetings.
However, sources told Hxagon that Maduro's move to open negotiations with a false opposition branch may have done more to divide his own coalition than Guaido's. Diosdado Cabello is unhappy with the new negotiation process because he views it as eventually limiting the power of the National Constituent Assembly (ANC) that he runs. Elements within the military view the false negotiation as a waste of time failing to address the key stability issues the country faces. From inside the regime, the big winners in this false negotiation process appear to be the Rodriguez siblings, with Vice President Delcy Rodriguez and Minister of Information Jorge Rodriguez being the public faces of the new process.
The fight over the National Assembly: The negotiations with small parties are a concern for Guaido as the PSUV has said they will rejoin the National Assembly (AN). There is a possibility that the government will attempt to toss out Guaido from within. While Guaido's coalition has a large majority of the seats and recently voted to renew Guaido's mandate, a number of the legislators are in exile due to threats by the Maduro regime. Additional threats or arrests combined with political trickery could complicate the legal situation for Guaido as president of the AN.
Venezuela is in a situation where power politics matters more than the bureaucratic institutional details. That said, both Maduro and Guaido make significant efforts to demonstrate that they care about the details as part of their effort to build and maintain legitimacy amid their fight over the leadership of the country. Even if Maduro somehow manipulates the National Assembly into a vote that tosses Guaido, it is near certain Guaido will reject the move as undemocratic. At that point, the international community's commitment to the de jure government under Guaido will be tested.
We will likely see a preview of that fight in the coming week at UNGA and the TIAR discussions.
Saudi oil attacks: With declining production and an inability to export due to sanctions, Maduro is not in a position to take advantage of any increased prices to obtain more cash for his struggling regime. To the contrary, Reuters reported this week that PDVSA will soon need to shut down production at additional fields due to a lack of storage capacity. However, he does have two potential longer term benefits if global supplies remain tight and prices remain higher in the coming weeks. First, any increased US focus on Iran will likely decrease the focus on Venezuela. Second, China may rethink its growing restrictions on Venezuelan oil imports in a tighter global market, especially if they believe the US is less likely to enforce sanctions amid the price spike.
Corruption Corner
Venezuela - Spain's ABC reported that Mexican cartels smuggled large amounts of US currency in CLAP boxes to Costa Rica, where the money was then sent via bank transfer to Russia to pay off top drug traffickers including Tareck al-Aissami and Diosdado Cabello. Costa Rican media had previously reported that the Alunasa aluminum company had been shut down in Costa Rica due to a money laundering investigation, but the cartel bulk cash smuggling was a new angle. Meanwhile, the US Department of Treasury continued to sanction the Saab corruption network that made money by overcharging for CLAP boxes.
Honduras - InSight Crime concludes their excellent series on Honduras by describing how President Juan Orlando Hernandez's policy of approving extraditions to the United States led to drug traffickers delivering evidence against his brother. With the president now named a co-conspirator in his brother's case, the corruption at the highest levels of government threatens its stability. Protests against JOH increased this week - timed to coincide with the independence day holiday.
Chile - As part of the Lava Jato investigation, Brazilian businessman Leo Pinheiro claimed former President Michelle Bachelet took bribes from the OAS construction firm (no connection to the international organization with the same name). Bachelet, now the head of human rights at the United Nations, denied the allegations in Chilean media.
Guatemala - The Inter-American Dialogue is hosting a meeting on the future of accountability in Guatemala after the departure of the CICIG. I'll be in the audience. Come find me and say hi.
Reading List
The New Republic - Climate change is poised to alter the face of global conflict.
Bloomberg - China's Manufacturing Loss Should Be Mexico's Gain, But President Andres Manuel Lopez Obrador is wasting the opportunity.
The Daily Beast - The Shocking, Bloody Tale of Mexico's Most Corrupt Governor (Javier Duarte)
Colombia Risk Analysis - Special Report on 2019 Local Elections
International Crisis Group - Venezuela's Military Enigma
BBC - Crisis en Venezuela: Chevron, la única gran petrolera estadounidense que sigue operando en en el país
HRW - Venezuela: Extrajudicial Killings in Poor Areas
WSJ - Venezuela Quietly Loosens Grip on Market, Tempering Economic Crisis
HRW - Brazil: Criminal Networks Target Rainforest Defenders
Reuters - Political turmoil, price freeze cast shadow on Argentina's Vaca Muerta
Thanks for reading
If you were forwarded this newsletter and enjoyed it, please enter your email at https://boz.substack.com to receive a free weekly newsletter.