Latin America Risk Report - 16 January 2019
Venezuela's political situation is shifting; AMLO's popularity is steady even as fuel shortages remain

In today's report
In the past two weeks, paying subscribers received reports about Venezuela's political situation and Mexico's fuel crisis. Today's free newsletter offers an update on both situations.
Subscribers this week received a report about the wave of criminal violence in the Brazilian state of Ceara and the Bolsonaro government's response. To subscribe and receive access to all the exclusive content, click the button below.
Update on Venezuela's political situation
Juan Guaido was elected president of the National Assembly (AN) on 5 January. In the ten days since, the young and relatively unknown politician has gained prominence and attention, throwing Maduro and his supporters off balance.
Guaido has led a series of careful and methodical steps to demonstrate Maduro's lack of legitimacy. He has laid out a future agenda that includes a transitional government and new elections. Under Guaido's leadership, the National Assembly is debating an amnesty offer to military and civilian personnel who assist with the transition back to democracy. The National Assembly also issued a request to dozens of foreign countries to freeze accounts held by Maduro's regime, which the AN considers illegitimate.
In spite of the rapid progress in recent days, Guaido faces pressure to move even more quickly from both the more radical fringes of the opposition and some well-intentioned international supporters. The secretary-general of the OAS and the government of Brazil have already recognized Guaido as interim president, even though he has not yet accepted the title for himself.
Rather than declaring himself president, Guaido has said he is prepared to accept the constitutional role if the people support him. While this seems like a technical difference in rhetoric, one that annoys those who insist he move more quickly, the result has been a building of momentum and attention Guaido needs if the National Assembly is to obtain any sort of de facto legitimacy to go along with their de jure claims on power.
Guaido's main domestic and international messaging, repeated in an op-ed in today's Washington Post, has focused on the fact Maduro has usurped power and the constitution calls on the security forces and all Venezuelans to reject that usurpation.
Catch and release
On Sunday, Guaido was detained briefly by the Bolivarian National Intelligence Service (SEBIN). The detention was captured on video, published on social media, and Guaido was released before most condemnations had time to be written. Guaido continued on to a public town hall to give a speech a few hours late.
Maduro's spokespersons claim the SEBIN agents acted independently and were fired for their actions. The head of the unit that detained Guaido has been arrested. Maduro's messaging is muddled, especially as Maduro supporters arrogantly posted on social media Friday that Guaido should prepare for arrest.
Guaido claims he spoke with those who detained him and convinced them of his legitimacy and of a potential amnesty offer that would be available to those who helped him. He says - correctly - the events show a break in the chain of command of the security forces.
Protests planned as Guaido pushes forward
Guaido has called on Venezuelans to demonstrate their support for the National Assembly's legitimacy and their rejection of Maduro in a protest on 23 January, the anniversary of the 1958 coup. Will he accept the interim presidency on that date? Guaido has not tipped his hand on that yet. It's a strategy creating tension and uncertainty that appears to benefit him and distract and confuse the government's attempts to stall or repress his next moves.
Guaido is setting the agenda and controlling the media narrative internationally. Major foreign media outlets are all profiling him as the potential next leader. Domestically, he's starting to make progress against the Maduro media machine, though polling and sources on the ground suggest he remains relatively unknown among the average Venezuelans who are not following the day-to-day political events.
As I wrote two weeks ago, there are factors that have kept Maduro in power which remain in his favor. It's been rare that Maduro's opposition has gotten the upper hand at any point in recent years. Guaido's hits against the stone are not yet the strike that breaks the regime, but he appears to have created a small crack in Maduro's image of control that threatens to split wider.
Update on Mexico fuel crisis
President Andres Manuel Lopez Obrador has promised to make everyone an expert on gasoline logistics. He continues conducting daily morning press conferences in which he makes announcements, shifts policy and addresses the criticisms raised in the media.
The willingness to respond directly to the crisis on a daily basis is likely playing a role in AMLO's continued popularity. AMLO has refused to acknowledge any errors with the implementation of his original decision and says his efforts are successfully reducing gasoline theft. Two polls released in the past week have shown the Mexican public largely agrees with the president and supports his fight against the theft of gasoline. Even in states facing the worst gasoline shortages, support for the president remains strong.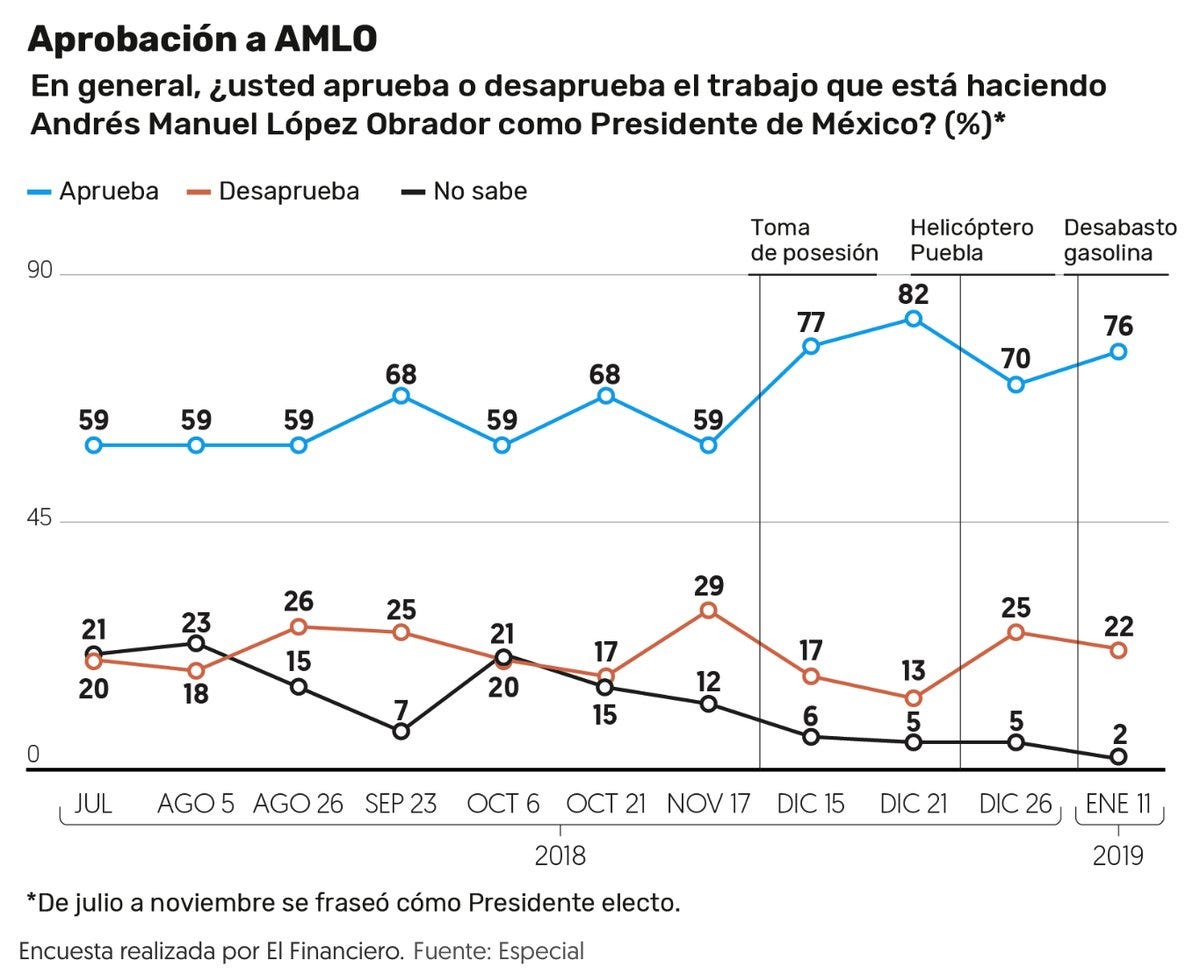 However, AMLO has also shown a willingness to change policy and respond to criticism before the polling turns against him. This week, he reopened pipelines to improve the supplies of gasoline. He has also increased importations from the US, going against his long term goal of reducing Mexico's dependence on foreign fuel and contradicting a Wall Street Journal report blaming reduced oil importations for the fuel shortages. These shifts in policy show pragmatism by AMLO, who must know that continued shortages will eventually cut into his popularity and distract from other agenda items.
While AMLO remains popular in Mexico, Pemex's image is dropping internationally. Reuters covered how fuel production is down and Bloomberg published an important article highlighting Pemex's failure to impress investors at recent meetings in New York.
Corruption Corner:
El Salvador - An investigative report by El Faro looks at ties between presidential candidate Nayib Bukele and corrupt contracts paid for by ALBA associates. Bukele remains in the lead in El Salvador's presidential election and is skipping televised debates.
Guatemala - The CICIG used social media to publish a carefully crafted response to the false accusations made by Guatemalan President Morales. The head of the CICIG, Ivan Velasquez insists the commission remains valid through the end of its mandate.
Reading List:
Francisco Toro and James Bosworth, Washington Post - Mexico's fuel crisis shows why populists can't resist politicizing the military
Imdat Oner, Miami Herald - Venezuela, Turkey using gold to evade U.S. sanctions
Stephen Kinzer, Boston Globe - When scaring the regime runs in the family
Rodrigo Janot, Atlantic Council - Brazil's Anti-Corruption Fight: What lies ahead?
Early Anthony Wayne and Christopher Wilson, San Diego Union-Tribune - Why the economic border plan could be costly for Mexico
Economist - An attack on corruption sleuths in Guatemala is also aimed at judges
Washington Post - 'I have to try': New migrant caravan leaves Honduras and heads for the United States
El Tiempo (Colombia) - Tras 5 años a la baja, homicidios subieron en el 2018
Thanks
Thanks for reading. Please continue sending your comments and feedback. Encourage others to subscribe at https://boz.substack.com