Discover more from Latin America Risk Report
Daily analysis of politics and security in Latin America.
Over 5,000 subscribers
Ecuador - Coronavirus and the Economy - April 2020
Moreno's loss is Correa's gain is Ecuador loss

Ecuador has among the highest numbers of cases in Latin America, mirroring Chile and behind Brazil. As of this writing, Ecuador has 75 reported deaths, the highest in Latin America outside of Brazil. Local journalists report that authorities in Ecuador's largest city of Guayaquil, Guayas, are collecting bodies from homes of people who likely died of coronavirus but not testing them, meaning the rate of death is likely higher.
The surge of cases in Ecuador seems to be more bad luck than poor government policy. President Lenin Moreno has taken the threat of coronavirus quite seriously. He acted early to implement quarantine measures and travel restrictions. The president has increased restrictions in recent weeks. Unfortunately, the virus arrived in the country early and a majority of the cases are focused in a single province (Guayas), meaning that the local healthcare system has been overrun. 
In the past week, cases have begun to increase in several other large cities and the spike in cases is now beginning to strain the health system in Quito.
As with much of Latin America, even as Ecuador's quarantine measures begin to flatten the curve, the country is still weeks away from the peak of the outbreak. The health situation will worsen and that will be the immediate crisis the government must manage. However, while much of the rest of Latin America deals with recession, Ecuador's difficult economic situation means it will likely face a full blown economic crisis even as it deal with the peak of infections.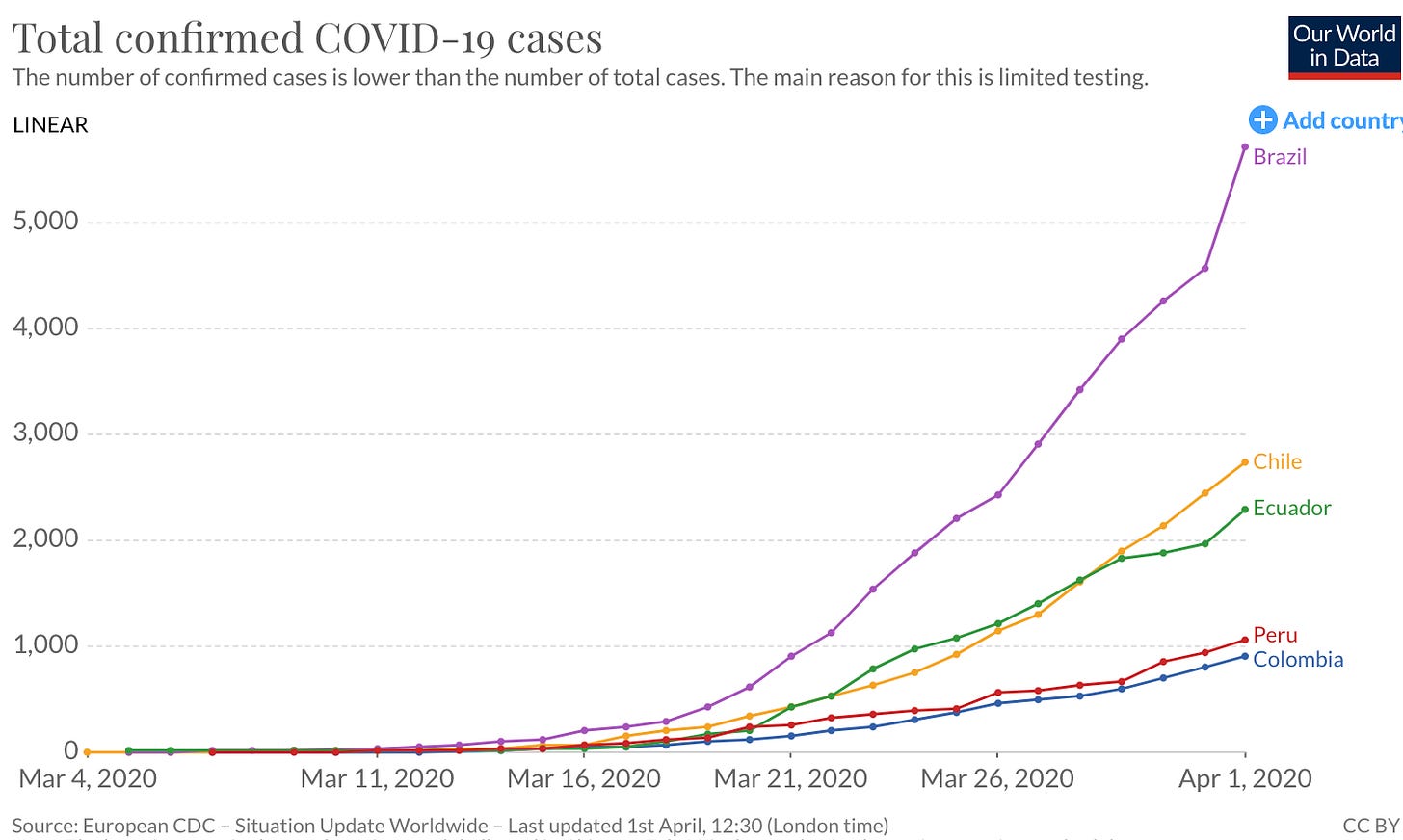 Limited economic resources mean less ability to assist a struggling population
Ecuador is quite limited in its ability to respond economically to the crisis. Its dollarized economy prevents inflation and means the country won't see its currency drop as has occurred in many of its neighboring countries. However, that same dollarization means its currency is strengthening at a time when all its neighbors are weakening and that the government can only spend the money it has or can borrow. Additionally, the sudden drop in oil prices and oil demand hits a key source of revenue for the country. The government's budget is based on oil prices above $50 per barrel.
Ecuador's economic and political situation was precarious before coronavirus. In late 2019, the Moreno government faced a budget crisis, attempted to cut fuel subsidies, and confronted weeks of protests in response. The president deftly overcame the immediate crisis by restoring fuel subsidies and creating a negotiation process among various stakeholders for future economic policies. However, as of early 2020 before the emergence of the coronavirus crisis, the negotiations were breaking down and the budget situation was once again looking unsustainable. Now, with the economy dropping rapidly, previous plans for tax increases and fuel subsidy cuts are going to receive much greater pushback.
At the moment, the government is offering small subsidies to individuals and business owners who are impacted by coronavirus. The amount (the largest number I've seen is US$150) won't get most people through more than a week or two of their expenses. The Moreno government has also limited businesses' ability to fire employees, though there are reports that businesses are firing, laying off or otherwise failing to pay their workers. With a majority of workers operating in the informal sector, many will not benefit from the initial payments. While discussions are ongoing about additional measures to help, the country doesn't have the resources to do so on any long term basis. Short term, Ecuador's only option is to delay or refuse to pay debt payments, which will further limit its long term options.
Moreno faces political pressure to default
Short term fixes are better than nothing. Moreno faces significant pressure from politicians across the political spectrum as well as citizens to prioritize economic rescue over debt payments. For that reason, analysts believe that Ecuador will be among the first countries to fail to pay their debts in a wave of sovereign defaults that is likely in the current economic climate. 
The challenge for Moreno is that future disbursals of loans are linked to ongoing payments. If Ecuador stops paying on its debt, it won't receive additional promised funds, which will cause its budget situation to deteriorate even more quickly. Barring a successful negotiation with creditors to delay payments or massive global debt forgiveness campaign, there is not a winning strategy that gets Ecuador through the rest of this year solvent.
Correa will look to take advantage
Moreno is already unpopular and is more likely than not to lose support as more Ecuadorans die and the economy crashes in the coming months. The rightwing opposition to Moreno including Jaime Nebot, the leading candidate in the 2021 election, is based in the Guayas province. If that province falls apart during the coronavirus pandemic, that side of the political spectrum will likely take the blame.
That leaves Correa and his allies as the potential winner in this crisis. They are going to pressure Moreno to default, take credit for any additional subsidies that get passed, and push the blame on to Moreno for any of the negative economic fallout. Additionally, the coronavirus coverage will distract from the ongoing anti-corruption investigations into the earlier Correa administration, causing a shift in what voters consider a top issue. The situation sets Correa up far better for 2021 than his position three months ago. 
---
Thanks for reading and subscribing
This article went out to paying subscribers on Wednesday and will be released to everyone else on Thursday. Thank you for subscribing and supporting this newsletter. Please feel free to email me with questions, comments or requests for what I should cover next week.